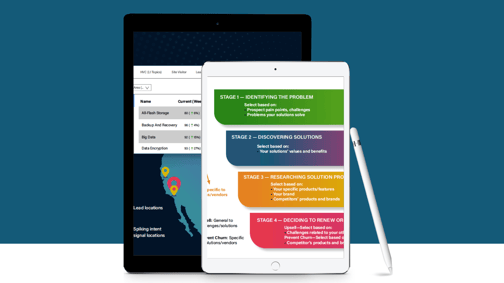 About The Guide
Inbound marketing today simply can't scale to meet businesses' needs. The rise of account-based marketing and sales strategies (ABM), combined with the increasing saturation of inbound marketing tactics, have made scaling inbound marketing performance to hit marketing's growing pipeline goals incredibly difficult and cost prohibitive.
Now more B2B organizations—from SMBs to enterprises—are leveraging third-party demand generation programs to identify and engage the right industry decision-makers.
Used with intent data, orgs can amplify the strengths of their 3rd-party demand gen programs by adding another layer of targeting precision. Not only do intent signals help identify which of your target-accounts is in an active buy-cycle, they also highlight the content and messaging most likely to resonate with those accounts—resulting in better prospect experiences, increased conversion rates, and consistent pipeline growth.
What will you learn in the guide?
How to segment intent-identified target accounts into separate campaigns (based on buy-cycle stage and selected topics and keywords)
What campaign parameters you should consider and how to set each according to your organization's unique needs and resources
Which content assets you should select according to intent-identified interests and your buyer journey (including what information you should give partners prior)
How to use intent data to sharpen lead follow-up efforts (e.g., selecting the right email nurture sequences, choosing which messaging to use in supporting programmatic ad campaigns, developing BDR talk tracks)
Please fill out the form below to download the free Ebook.