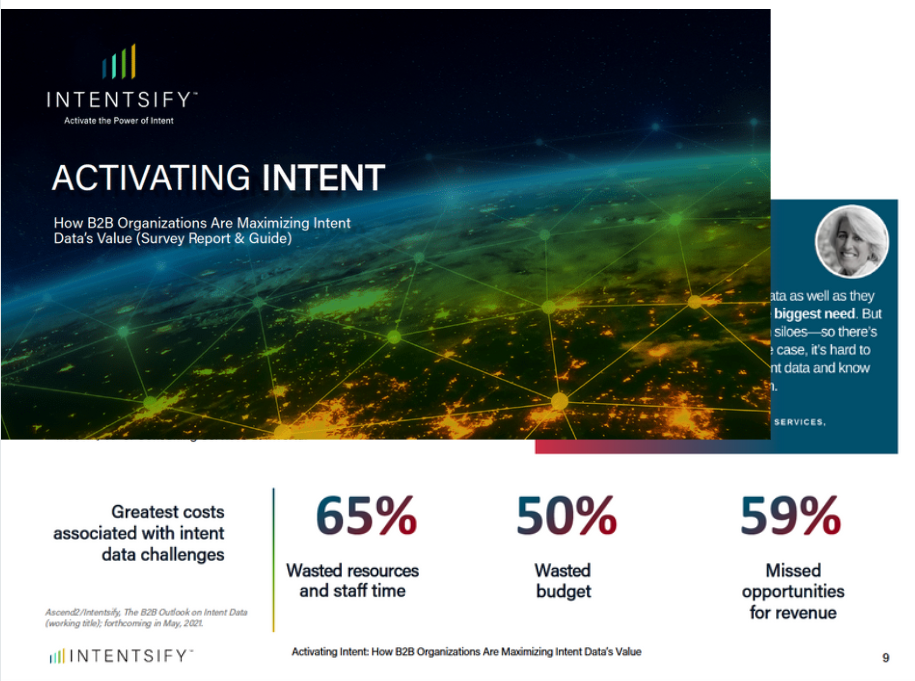 About The Guide
The use of intent data among B2B marketing and sales organizations is booming, as 82% of companies are already using intent data or rolling out a plan for its use. That's up from 62% of B2B organizations in 2020, 48% in 2019, and 28% in 2018.
In partnership with Ascend2, Intentsify surveyed 289 B2B marketing professionals to better understand the 2021 landscape of intent data usage among B2B organizations. This guide, filled with key survey findings, also provides actionable steps on how to maximize intent data's value so you can get the most out of your investment.
What will you learn?
Current state of intent data use among B2B organizations.
Most impactful use cases of intent data for a digital marketing strategy and the effectiveness of intent data in supporting these key use cases.
Why organizations are using multiple intent data sources and how many sources are being used, specifically.
Challenges of activating multiple sources and the greatest costs associated.
Biggest complaints from sales/BDR teams when using intent data.
Please fill out the form below to download the free Ebook.