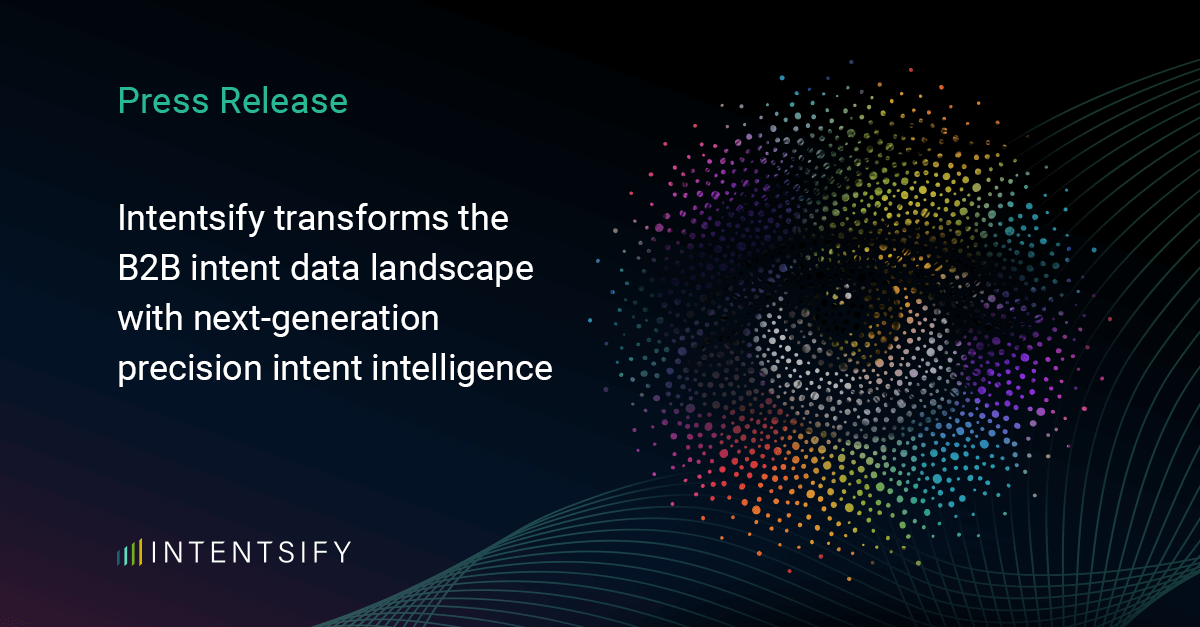 FRANKLIN, MA—February 23, 2023—Intentsify, a pioneer in buyer-intent data and intent activation solutions, today announced a groundbreaking and patent-pending evolution of its proprietary intent data: next-generation precision intent. Using advanced natural language processing (NLP) and activated via its Intelligence Activation Platform, Intentsify's precision intent is the first and only intent data solution that generates signals using models calibrated precisely to a customer's unique products and business offerings.
Intent data has proven to be effective in B2B marketing, but existing solutions use finite topic and keyword lists and predefined models to generate intent signals. This approach provides a generic solution for all and does not account for the subtleties in go-to-market messaging (GTM) that differentiate each B2B marketer. Intentsify's precision intent revolutionizes the intent data landscape by analyzing the marketer's messaging, webpages, and online marketing materials to automatically select and uniquely weight an unlimited number of topics, keywords, and products, thus identifying intent that is precisely aligned to the marketer's GTM. This next-level buyer intelligence helps B2B GTM teams efficiently deliver exceptional, effective, and efficient full-funnel buying experiences that drive revenue.
"As GTM functions are being asked to do more with less, the need for precision intent data is paramount," said Marc Laplante, CEO of Intentsify. "Our customers have told us we are three times better at locating where prospects are in their journey to buy their solutions. With this advanced level of intelligence, B2B organizations can deploy their time and resources where, when, and how they will have the greatest impact. We pride ourselves on being the only company currently offering this level of intent-fueled intelligence to customers at a time when it's most needed."
Key capabilities and benefits of Intentsify's precision intent include:
Unmatched breadth of intent coverage: Combining signals from multiple types of sources—and further incorporating the marketer's own first-party data as well as other third-party intent signals—Intentsify's precision intent prevents the skewed buyer insights that result from limited signal coverage.

Automation = less time, effort, and expertise needed to generate value from intent data: Intentsify's NLP analyzes the marketer's online messaging to automatically select and weight unlimited topics and keywords relevant to a business's products and services, significantly reducing the time, effort, and need for specialized skills GTM teams typically require to execute their marketing programs.

Intent-signal transparency: The first and only intent data solution that provides customers visibility at the URL level, thus giving confidence in the validity of the signal.
To learn more about Intentsify's groundbreaking intent data platform, visit www.intentsify.io.
###
About Intentsify
Intentsify provides B2B organizations with the most accurate, comprehensive buyer-intent intelligence in the market today, and solutions to act on that intelligence.   By delivering and activating proprietary, next-generation precision intent data, Intentsify's Intelligence Activation Platform identifies companies exhibiting research behaviors directly related to your business solutions, pinpoints where they are in the buying process, surfaces the issues they care about most, and enables you to engage identified companies with full-funnel buying experiences that drive revenue.  
Contact
Samantha Stone
Kickstand Communications
intentsify@meetkickstand.com
Back to Intentsify Newsroom