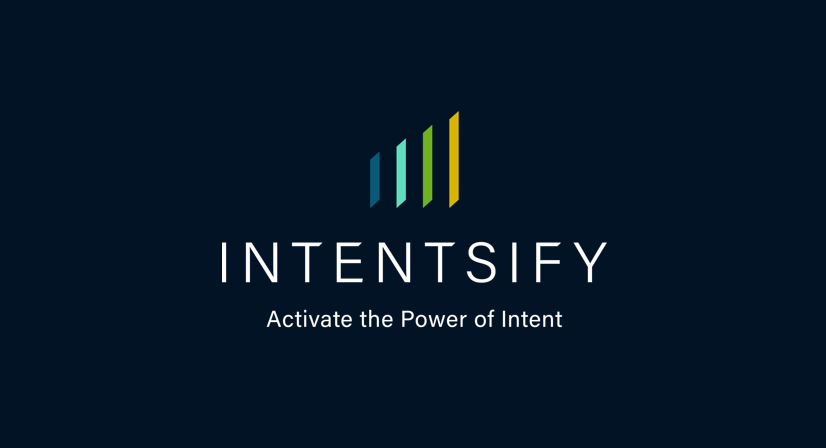 FRANKLIN, Mass, March 3, 2021—Intentsify, the leader in intent-data activation software and solutions, today announced its second consecutive year of 4x revenue growth, and is continuing to expand its executive team in preparation of continued scale in 2021.
The company's achievements are a result of its customers' success. As the leading provider of Intent Activation™ technology, Intentsify was strategically positioned to support B2B marketing and sales organizations as they increased spend on intent data to support account-based strategies and digital marketing channels in 2020. Intentsify's software and solutions make intent data more actionable and impactful by aggregating, digesting, and acting on multiple sources of target-account buying signals.
"2020 saw heavy B2B budget allocation to digital channels in order to continue driving account-based demand during the pandemic," announced Mike Kelly, Co-Founder of Intentsify. "Intent data can be incredibly valuable here, helping B2B marketers and sellers navigate an increasingly digital, non-linear buying process and identify 'in market' accounts to target. And there are many types and sources of intent data that, when used together, offer broad coverage of businesses' buying behaviors. Unfortunately, aggregating intent signals from numerous sources and converting the data into impactful actions is a major roadblock for many teams. At Intentsify, our software and solutions—built on our own proprietary intent data—are helping B2B teams overcome this roadblock. More than just account insights, Intentsify's customers get efficient, revenue-producing results."
Milestones achieved in 2020 include:
4x revenue growth in 2 consecutive years (2nd and 3rd year in business)
9 consecutive record-revenue quarters
2.9x increase in customer base
2.5x growth in employee headcount
New Chief Product Officer and product team growth to bolster tech innovation
To reach the next stage of growth, Intentsify is investing heavily into product development. The company recently brought on Charlie Allieri as Chief Product Officer. Allieri brings more than 25 years of experience in the B2B technology industry, comprising numerous roles in product, sales, and marketing at industry-leading companies such as Infor, iLantern (acquired by Avention), Aberdeen, and Kemvi (acquired by Hubspot).
"Intent data has been myopically defined by the legacy market leaders," said Allieri. "I joined Intentsify because it's the only company in the space that's jumping in to fulfill largely unmet needs among B2B marketing and sales teams. I immediately understood and appreciated the company's focus on enabling customers to activate their account-based strategies using a broader view of intent. Intentsify pioneered moving away from a single intent source. It embraces the increased signal coverage and accuracy that comes with leveraging multiple sources and types of intent. The company's results substantiate its mission and are spawning other companies to mimic its successes."
Since joining Intentsify in January 2021, Allieri has seen the size of the product team triple, bolstering its expertise in data science and, specifically, machine learning. Over the next year, Allieri and the product team plan to aggressively invest in the company's portfolio of data integrations, technology infrastructure, and AI/machine learning tools to accommodate the rapid increase in customer adoption of its Intent Activation™ technology. All these endeavors will be guided by the company's mission to increase the speed, ease, and efficacy with which customers activate their account-based strategies to drive better prospect engagements and more revenue.
New SVP of Sales & Customer Success to scale customer acquisition, achievements
In addition to strong product team investments, Intentsify announced the recent hire of Julie Ekstrom Fulkerson as the company's SVP of Sales & Customer Success. Fulkerson brings with her more than 20 years of experience in B2B media, technology, and data. Having led numerous sales and customer success teams at industry-leading companies like IDG Communications, CBS Interactive, TechTarget and LeadCrunch, Fulkerson will focus on building a foundation of customer-facing strategies and processes to support Intentsify's next stage of growth.
"I was drawn to Intentsify given how their product addresses a quickly growing and significant market need," announced Fulkerson. "Just as importantly, I kept hearing through my network about how uniquely well the Intentsify team serves its customers. That's the type of organization all sales leaders want to join and build up. I'm thrilled to be joining such a rapidly growing, uniquely positioned organization."
About Intentsify
Intentsify's Intent Activation™ software and solutions make intent data more actionable and impactful for B2B marketing teams. Building on Intentsify's proprietary intent data, our Intent Activation™ software layers multiple intent data feeds to verify intent-signal accuracy and highlight accounts showing the strongest buy-cycle activities—as well as the issues they're most concerned with. Our solutions then convert intent insights into actions via demand generation and programmatic advertising campaigns, helping you efficiently scale account-based demand and pipeline velocity.
For more information, please visit www.intentsify.io or email info@intentsify.io
Back to Intentsify Newsroom