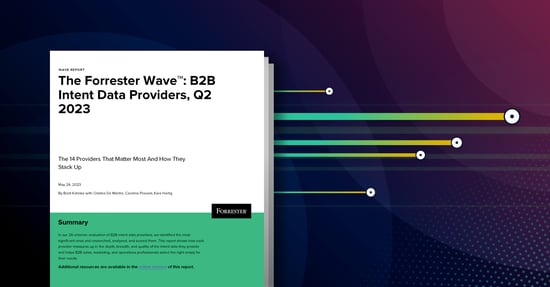 Analyst Report
Discover the Intent Providers that Matter Most
In this extensive report, Forrester evaluated and scored 14 B2B intent data providers across 26 crucial criteria, recognizing Intentsify with the highest score possible, defined as superior relative to others in the evaluation, in the following criteria: data accuracy and noise filtering, vision, innovation, and roadmap.
Gain unparalleled access to in-depth research, analysis, and comparisons to make informed decisions that will propel your sales, marketing, and operations strategies.
Reference customers praised Intentsify for its impressive success in targeting, willingness to customize, and ability to simplify the complexities of managing and leveraging intent.
Why Intentsify Is a Strong Performer
As you explore the report, you'll find Intentsify recognized in the following areas:
Predictive intent

Advanced buying-cycle analysis

Unique application of natural language processing (NLP) to provide a weighted ranking of a company's most critical keywords

Highly customized scoring models for businesses' product solutions
Download the Complete Forrester Wave™ Report Now!
Ready to harness the full potential of precision intent? Download the Forrester Wave™: B2B Intent Data Providers report today and gain access to valuable intent insights, provider comparisons, and expert evaluations. Discover why Intentsify has been recognized as a strong performer and join the forward-thinking companies leveraging intent data to fuel their success.
Please fill out the form below to access the report.