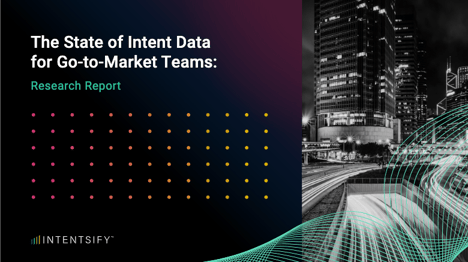 About the Report
Intent data helps go-to-market (GTM) teams gain insights into which organizations are showing interest in specific products or services, and to what extent. With ever-increasing competition for B2B buyers, marketing, sales, and customer success teams require intent data insights throughout their funnel to identify and engage the right target accounts with the right content at the right moment.
What we found: Active intent data use is on the rise, with 67% of respondents using intent data as part of a well-designed and measured strategy. Therefore, if you aren't using intent signals to enhance your overall GTM efforts, you're missing out on potential revenue opportunities. But not all intent data is created equal, and B2B teams continue to face myriad challenges in making effective use of the data itself.
Key Insights:
Gauging overall success.

Active intent users perceive their overall marketing strategy to be more successful than non-users.

Cross-departmental collaboration is key

. All users report that implementing intent data helps sales and marketing teams become better aligned, but collaborating cross-departmentally is a top challenge to executing effective digital marketing strategies.

Challenges come with major costs.

54% experienced wasted staff time and 49% reported missed revenue opportunities as a result of intent data challenges.

Intent data integration is critical to success

. 61% of intent adopters reporting very successful digital marketing strategies have their data fully integrated with other data, compared to only 8% of intent adopters reporting lower levels of success.