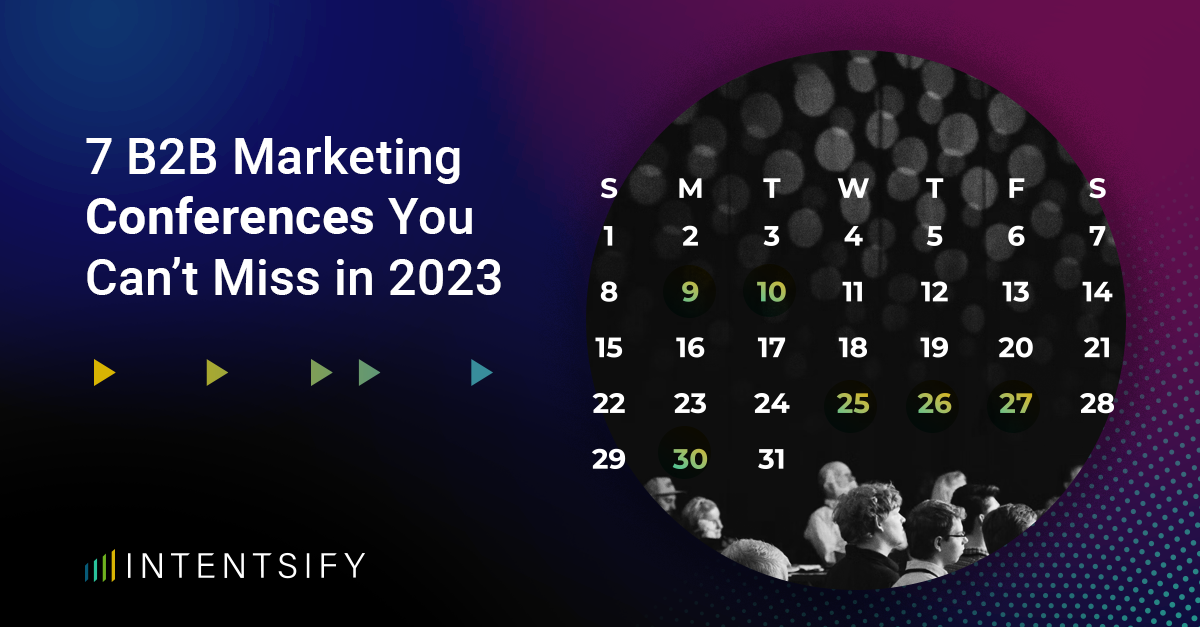 The only way to up your game in the office is to revisit the classroom. As B2B marketers, we're expected to bring fresh ideas to the table and educate ourselves on the cutting-edge trends in the industry. Our world changes fast—new strategies, new tactics, new tech, new funnels—or should we say waterfalls now? You get the gist.
There is a slew of ways to improve your knowledge in the space. Scouring LinkedIn to understand what the influencers are saying, catching up on your favorite blogs or podcasts to get the expert point of view, watching all the webinars you can, or should you dare…pursuing an advanced degree? Of all the options, one of the most accessible, and quite frankly, more entertaining ways to keep your knowledge current is to attend industry conferences.
So pack your bags and grab your passport because we've cultivated a calendar worth replicating for the rest of 2023.
B2B Sales and Marketing Exchange
Boston, MA, August 7–9, 2023
To kick off the second half of 2023, we're heading to Boston first to meet with more than 800 B2B sales, marketing, and revenue ops pros at Demand Gen Report's B2B Sales and Marketing Exchange—the east coast spinoff of their B2B Marketing Exchange conference back in February. Over three days of panels, networking sessions, and workshops, you'll have the opportunity to polish your skills and further your knowledge of AI and machine learning to supercharge your GTM strategy.
Can't-Miss Sessions:
"Self-Diagnosing Your Revenue Engine: How Revenue Diagnostics Make It Easy to Get More from Tech Investments & Improve Marketing Impact," led by Meg Heuer of Datos Insights and Jennifer Ross of Intentsify

"How B2B Organizations Can Turbocharge Their Growth Engines in Today's Economy," led by John Arnold of Forrester Research

"C is Not a Bad Grade—When it Stands for the Customer," led by Sophia Augustina of IBM, Rob Griffin of Intentsify, and Margaret Safford of Greyhairworks!
You can check out the full agenda here.
Inbound
Boston, MA, September 5–8, 2023
Now for the big one: Hubspot's INBOUND event has been coming to Boston since 2011 and getting better every year. Priding itself as being the world's largest event for marketing, sales, customer success, and revenue ops and hosting more than 70 thousand attendees both in person and digitally, INBOUND is the place to be for practitioners to get real-world, actionable tactics that they can immediately bring back to their organizations. With an event of this magnitude, you can't help but attract some world-class speakers, including Reese Witherspoon, Derek Jeter, and Andrew Huberman.
Can't-Miss Sessions:
"Becoming an Ambidextrous Marketer in Turbulent Times," led by Baruch Toledano of SimilarWeb

"What 100M+ Phone Calls Reveal About Data-Driven Marketing," led by Masami Middleton of CallRail

"Marketing Against the Grain Live: The Future of AI," led by Kieran Flanagan of Zapier and Kipp Bodnar of HubSpot
Check out the full agenda here.
Oracle CloudWorld 2023
Las Vegas, NV, September 18–21, 2023
One of the most prominent brands in the business is headed back to Vegas for its annual industry and user conference: Oracle CloudWorld. Here you'll find everything from technology infrastructure to CX and leave with practical, hands-on advice from experts at Oracle and its partners. If you've landed on this post, you're likely most interested in the sales, service, and marketing track CloudWorld offers. Here are a few sessions you'll want to add to your agenda.
Can't-Miss Sessions:
"A Better Way to Grow: Deliver Value Through Unified Customer Experience," led by Oracle's Rob Tarkoff, Katrina Gosek, and Jeff Wartgow

"Demystifying Generative AI and Its Benefits for Business," led by Miranda Nash of Oracle

"5 Ways to Improve Advertising Effectiveness Using Data Collaboration Tools," led by Christopher Bell and Tim Carr of Oracle Advertising
Check out the full agenda for the CX track here.

Content Marketing World
Washington D.C., September 26–28, 2023
The premier event for content creators and marketing professionals is happening this September. No matter the role you play on your team, if content is even a sliver of your job, you'll find ideas, inspiration, and practical tips here. Day one is a full day of masterclass workshops designed to serve attendees everything from brand development to how to write to please the Google search algorithm. Regular sessions and keynotes kick off on the 27th, featuring talks from household names like Elizabeth Banks and best-selling author Andrew Davis.
Can't-Miss Sessions:
"Data-Driven Personalization: How to Create More Relevant Content Through CX, AI, and Data," led by Zontee Hou of Convince and Convert

"Story Revolution: Data-Driven Personalization in Action," led by Tiffany Grinstead of Nationwide

"How to Humanize AI-Generated Content: Best and Worst Practices," led by Jeff Coyle of MarketMuse
Check out the full agenda here.
MarketingProfs B2B Forum
Boston, MA, October 4–6, 2023
We're staying on the east coast to check out MarketingProf's B2B Forum, designed specifically for marketing teams to discover how to drive growth, elevate brands, prove ROI, and stay ahead of the curve. Over three days, you'll hear from some of the most prominent industry pros, including Ann Handley, Chief Content Officer at MarketingProfs, Michael Brenner, CEO of Marketing Insider Group, Pam Didner, expert on all things B2B and tech marketing, and plenty more.
Can't-Miss Sessions:
Workshop: "How to Build a Successful GTM Marketing Plan," led by Pam Didner

"Thought Leadership and Story-Finding: How to Generate a Constant Stream of Story Ideas to Engage Your Audience," led by Rhea Wessel of the Institute of Thought Leadership

Take advantage of B2B Forum's expert 1:1s; anyone with a conference pass can sign up for a 15- minute one-on-one consulting session with an expert to ask questions about anything B2B marketing
Check out the full agenda here.
Forrester B2B Summit EMEA
London, England (and Digital), October 9–11, 2023
For the first time this fall, we're leaving the US and heading across the pond for Forrester B2B Summit EMEA. Quickly gaining momentum and mimicking the footprint of its North American conference, Forrester's EMEA event delivers all the goods for B2B teams responsible for revenue. You'll hear directly from the analysts that shape the industry's best practices, market predictions, and strategic models that will fuel your business no matter the economic climate.
Can't-Miss Sessions:
"How Global Should You Go? Calibrating Localization Investment," led by Kathleen Pierce of Forrester

"Designing Go-To-Market Strategies to Win in Tough Market Conditions," led by Nicky Briggs of Forrester

"How to Embrace Customer Lifetime Value," led by Rusty Warner of Forrester



Don't miss the analyst-led roundtables that happen on Tuesday, October 10; you'll be part of the discussion and ensure your input is weighed by the best and brightest minds in the business
Download the full agenda here.
B2B Marketing Expo
London, November 29–30, 2023
To finish off the year, we're sticking in London to attend the B2B Marketing Expo hosted by RoarB2B. Now hosting thousands of B2B marketers, sales, and revenue pros, the B2B Marketing Expo was the first event of its kind back in 2016. This year, the event is building its agenda across six major themes: Marketing and Sales Alignment, Personalization, B2B Influencers, Brand Personality, AI, and Data & Analytics. Since we're still a bit far out from the event, the full agenda isn't published yet, but you'll be able to check it out here once it's live.
Back to Intentsify Blog