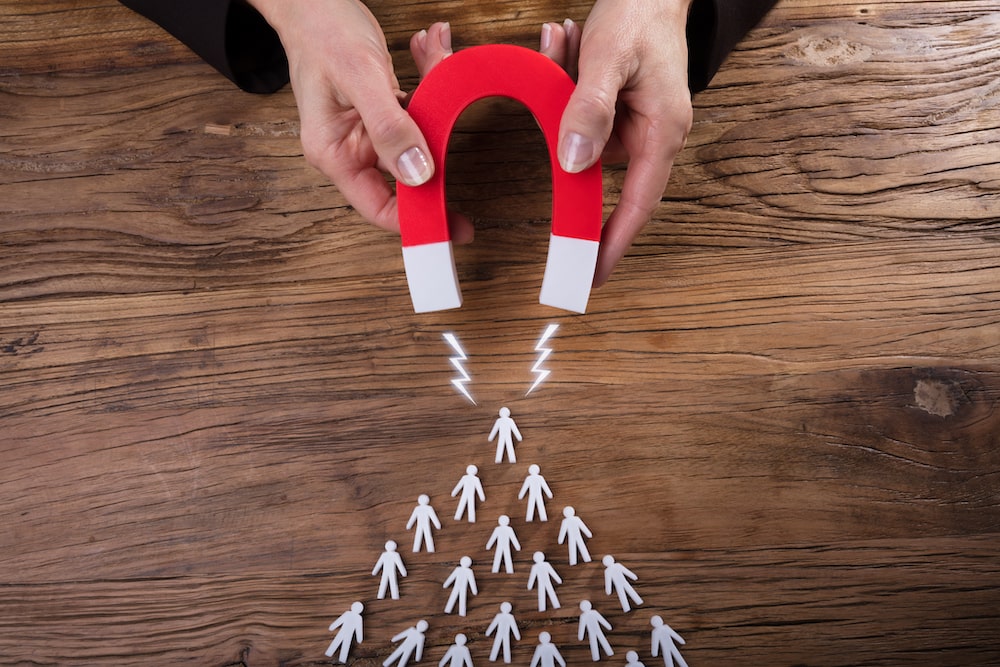 The terms demand generation and lead generation have often been—and often continue to be—used interchangeably by B2B marketing professionals. Yet they're not the same thing. And, in fact, using these terms synonymously can create problems and challenges that hamper marketing, sales, and even customer success efforts that drive business growth.
In this article, we'll review the differences between demand gen and lead gen and why understanding the distinction is important.
What is Demand Generation?
Demand generation is defined differently across industries and companies, but Marketo provides a good definition that really captures its essence:
"In an industry where creating better brand-to-customer relationships is everything, demand generation is an umbrella term for a range of marketing activities that drive long-term engagement—including lead generation, demand capture, and pipeline acceleration. It includes a series of touchpoints designed to raise awareness of customer challenges, position your brand as a trusted advisor, generate leads, sell your solution, and—if done correctly—foster genuine brand loyalty."
In other words, demand generation is a sub-discipline of B2B marketing that focuses on driving a want for your brand's solutions among your target audiences. A good demand gen strategy leverages a variety of different channels and tactics to help these target audiences understand their challenges, become aware of your solutions, and ultimately, purchase your products or services.
To achieve this, demand gen teams are usually tasked with converting "interest" in your solutions into something that can be nurtured, measured, analyzed, and eventually, developed into customers and revenue. This something is typically what the B2B marketing and sales industry refers to as leads (though, even this term can mean many different things depending on context). It's because creating this more quantifiable interest in the form of leads is so pivotal to demand generation that the B2B marketing industry so often confuses demand gen with lead generation.
Key Aspects of a Demand Generation Strategy
Demand generation strategies and responsibilities can vary greatly between industries and companies, but most comprise some combination of the following focuses:
Target-audience segmentation

Goal setting (e.g., pipeline value and revenue targets)

Inbound marketing

Content marketing and thought leadership efforts

3rd-party demand generation (e.g., content syndication)

Event marketing

Social media marketing

Paid digital advertising

Lead and/or account nurturing (e.g., automated email workflows via marketing automation platforms)

Lead and/or account scoring

Customer marketing

Business/sales development efforts

Program measurement, reporting, and optimizati

on
What is Lead Generation?
Lead generation is really a demand generation tactic, whereby you collect business information from targeted individuals (i.e., "leads") that can then be used to nurture these individuals into qualified sales opportunities and eventually customers. It's usually a top-to mid-funnel activity, but it can also be employed to expand investments at current customer accounts.
Key Aspects of a Lead Generation Strategy
Just as there are many facets to demand generation, so too lead generation can involve many different aspects. These often include:
Audience segmentation

Goal setting (e.g., lead-volume and account-engagement objectives)

Channel and tactic selection

Website and blog forms (e.g., to access eBooks and reports)

Third-party media partners/publishers (e.g., content syndication)

Paid digital advertising (e.g., SEM, programmatic advertising)

Event sponsorships

Organic social media efforts

Webinars
Why You Shouldn't Confuse Demand Gen With Lead Gen
As discussed above, lead gen is just one aspect of a holistic demand generation strategy. But because it's such an important piece, marketers and sellers alike are prone to using the two terms interchangeably. This is problematic.
When teams use "lead gen" in place of "demand gen" it causes the scope of a demand strategy to shrink. Goals begin to focus merely on top-of-funnel lead-volume targets, rather than far more important metrics like pipeline value and revenue targets. This can be detrimental to marketing's performance.
It's a lot easier to hit lead-volume objectives than revenue goals. Maintaining focus on a holistic demand generation strategy—from raising market awareness all the way down to winning new customers and expanding customer account investments—entails many efforts, but it's what will drive business growth.
Using effective lead gen practices is an important aspect of a comprehensive demand gen strategy. But lead gen in a vacuum—that is to say, not using it in the context of a holistic demand strategy—will typically just result in a lot of wasted time, budget, and energy, not to mention the wrath of your sales colleagues.
That's because insights gathered from all the other demand gen efforts (e.g., lead scoring and nurturing, lead follow-up from business development reps, full-funnel measurement and reporting) are key to optimizing lead gen campaign results: higher quality leads, increased conversion rates, more marketing-influenced pipeline, better informed prospects, etc. Therefore, having more visibility into the path leads take to converting will give you better insights into knowing what demand/lead gen tactics are most effective–resulting in improved ROI.
In my next post, I'll discuss how intent data can be used to improve both demand gen efforts in general, as well as lead gen results specifically.
Back to Intentsify Blog