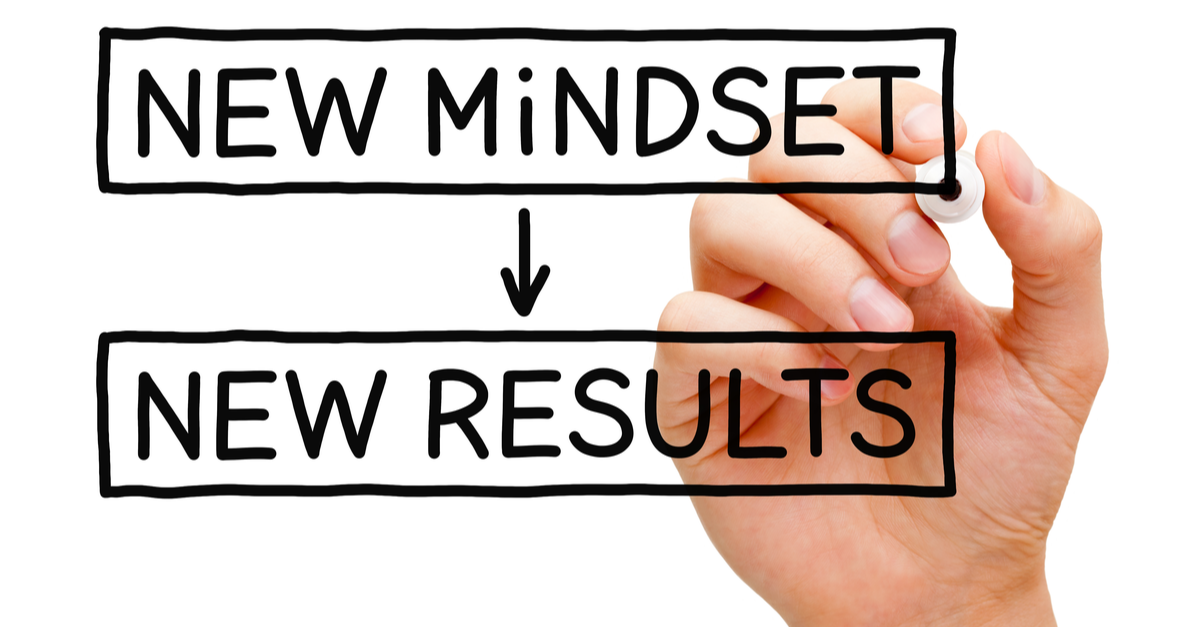 The following is a guest post written by Kristina Jaramillo, President of Personal ABM.
Many companies are shifting from inbound to outbound ABM approaches using intent data—and for good reason. ITSMA's latest benchmarking survey with the ABM Leadership Alliance reported that 76% of respondents who measure ROI found they get the highest return on investment from ABM. But ITSMA also reported that only a third of organizations see a significant business impact and improvement with account-based marketing.
Yet previous research shows—and, intuitively, we all agree—that ABM works especially when you use intent data solutions, like Intentsify's, which enable sales and marketing teams to rapidly evolve their programs from mass spray and pray tactics, to more targeted, personalized outreach campaigns.
Sales and marketing teams spend more time nurturing prospects with an increased signal of interest and intent to buy. Conversely, they spend less time chasing cold-calling lists and more resources on specific in-market accounts that can drive revenue growth now.
So, Where Is The Breakdown Occurring?
While sales and marketing teams have used intent data to focus and accelerate their prospecting efforts, many of these organizations still struggle to get the most out of their intent data investments. In fact, LinkedIn's State of Sales Report shows that 44% of organizations have been seeing huge drops in responsiveness to phone, email, and social outreach. A Challenger study shows that the biggest challenge for 50% of sales and marketing teams is getting a response from buyers.
Why is this? If the data is right and it's identifying in-market accounts, why aren't all organizations using intent data for outbound efforts seeing huge jumps in responses?
In talking to leadership, sales, marketing, and customer success teams about how they go-to-market using intent data, we learned that many of these teams lack an effective strategy for using intent signals in their prospecting and nurturing efforts. Intentsify's "B2B Marketer's State of Intent Report" supports this as well. Their study shows that the top challenges organizations face with intent data include:
Creating a strategy for intent's use;
Measuring its impact;
Converting data into insights; and
Effectively acting on these intent insights.
It's not surprising that the latter three of these four challenges all result from the first, primary challenge: creating a holistic strategy for the use of intent data.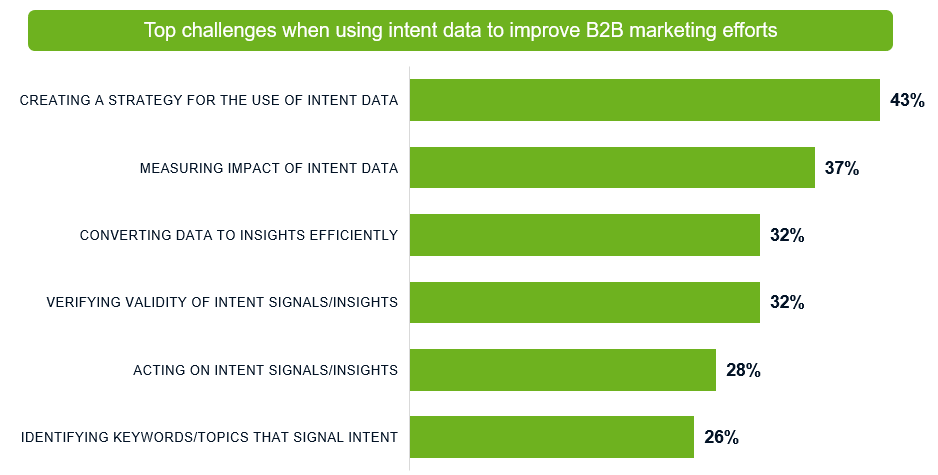 Revising Intent-Driven Processes for ABM
The problem is that sales and marketing teams still engage in a "spray and pray" approach but now with a targeted list of in-market accounts. We are still too focused on "scaling" marketing, nurturing, and prospecting as we try to reach as many in-market accounts as possible with digital ads, retargeted ads, email campaigns, LinkedIn messaging and phone calls.
As we scale for reach, we lose the intimacy that's needed to open, engage and close tier 1 accounts as the focus is not on the interactions we need to have and the experiences we need to deliver to those accounts needing our solutions.
As David Crane, VP of Marketing at Intentsify, has said many times:
"Intent data has two general values: it identifies the accounts you should focus on, and tells you what they care about, so you can provide each of them with the specific info they need. Unfortunately, most intent users only focus on the first value, while they neglect the second."
In many cases, there is no strategy on how we will get in-market, intent-identified accounts to revenue. There is no thought about how to use the intent signals to select the content, messaging, and stories that will be needed to build the business case, teach for differentiation, and to influence selling conversations.
In fact, 86% of content and messaging do not support a comprehensive ABM strategy. As a result, intent-driven nurturing sales efforts often have little commercial impact on buyers. We just have a bunch of the same tactics that sales and marketing are to complete. They're taking the leads and running them through email/phone campaigns and treating all leads the same without any segmentation/prioritization. But, because they're focused on in-market accounts, sales and marketing teams expect the results to be astronomically better.
What Should GTM Team Do Differently?
Identify your ICP and segment your accounts. Usually, there is no differentiation in how GTM teams approach tier 1, tier 2, or tier 3 in-market accounts. Why would you treat an account that can provide you with the greatest revenue growth the same as an account that would be just nice to have? When you treat all "in-market opportunities" the same and just create buyer journeys based on what prospects are searching for, you work off general assumptions about company and persona needs and pain points. This is the same information that your competitors are responding to, so there is no real differentiation from others using intent data platforms.


Incorporate the use of intent into your overarching ABM strategy. Once you see what prospects are researching, so you know the use cases to focus on, create your account-based strategy to work from when you move forward with prospecting and nurturing. This strategy should define:

Who should be leading and driving the ABM strategy

—

and the role that each GTM team should play. Most ABM and intent-driven programs are automatically pushed onto demand gen teams, where it becomes all about campaigns. ABM is a business revenue strategy where you focus on getting more tier 1 accounts to revenue and existing accounts to greater revenue growth. It is not about campaigns.



Which accounts require a one-to-one approach, a one-to-few approach and a one-to-many approach and what those approaches should look like.



What you are going to do with accounts that are in-market but do not respond to your campaigns. What you will do with those accounts that have intent and they showed initial interest but then stopped engaging. What you will do with in-market leads that become opportunities but then get stuck in their buying journey.



How sales, marketing, sales enablement, and RevOp teams will work together with tier 1 in-market accounts to ensure intent-driven leads actually become revenue.



The content you need to support the conversations that sales teams will need to have with in-market accounts. This includes how you will show your relevance to target accounts. How you will teach for differentiation. How you will show account-specific gaps and impacts to drive an urgency. The content you will need for the middle and bottom of the buying journey to give buyers the confidence to make a buying decision in your favor.



How you are going to integrate digital and social strategies with your ABM and intent-driven prospecting and nurturing. This goes beyond creating cadences that include inviting prospects to connect and when you should be using LinkedIn InMail. It includes how GTM teams will increase their relevance with key accounts so buyers and influences will want to connect. I find that 95% of GTM teams are irrelevant on social.



What other technologies and data besides intent data you should have in your marketing tech stack, which would support your ABM and intent-driven prospecting and nurturing?
Click here for my ABM strategy template
Go beyond personalization and get personal with key tier 1 accounts.

In a recent LinkedIn post, Nick Bennett (Director of Account-Based and Field Marketing at Alyce) mentioned that personalized marketing is focused on tailoring an experience to the pains and needs of the business and buying persona. You should cater to the person (the human being) behind the title, fostering a relationship that extends beyond a contract and is rooted in trust. The focus should now be on moments vs. touches. As Matthew Dixon and Brent Adamson mention in their book, "The Challenger Sale," in most cases buyer unresponsiveness is not because you failed to make a logical argument

—

it's because you failed to make an emotional connection. It's not that buyers didn't believe your story. It's because they didn't see it as "their" story. This identifies a clear need for B2B marketers and sellers to speak with tier 1 accounts and individual buyers vs. simply speaking at accounts.



Use intent data and intent-driven solutions as a springboard –

not as a final destination. When sales and marketing teams simply respond to "intent data" and "pain points," they are automatically putting themselves in the "nice to have" category, which the prospect may get to once they take care of their list of priorities. The most successful GTM teams using intent data as a springboard vs. just responding to it. They are uncovering:
Why there is intent in the first place so they can show the role they'd play in achieving the business vision.



What the prospect's million-dollar headache is, on both an account and personal level.



What's going on within the organization and the different divisions that can impact operational excellence, customers, and P&L.



Where the account-specific or competitor-focused gaps exist that are not being considered and the personal impacts which may be underestimated.
Align with the business vision and show your relevance to become a must-have solution.

This requires teams to go beyond campaigns and focus on 1-to-1 interactions where GTM teams can create a personal relevance. It requires teams to truly understand the account they are targeting, including how the buyers think, the reframes that need to happen before a deal can be closed and the specific use cases.

Aligning with the prospect's business vision is especially important if you want to create a buying consensus with in-market leads. This is a key challenge for many teams as Intentsify studies show that the managers and directors within larger firms are the ones showing intent

—

not the budget holders (VPs and the C-Suite!) We need content and messaging that will influence the conversations that sales teams are not invited to

—

and the only way we can do that is with content that is meant to shift the team's thinking. The content and messaging needs to speak to account-specific gaps, personal impacts across the organization and how the gaps will impact the business vision.
Click here to see an example of how ABM was used to influence internal buying conversations and create a buying consensus.
There Is No Cure-All for GTM Teams
No tool alone (including intent data) will not provide GTM teams with maximum revenue growth potential. If we want greater returns from our ABM and intent-driven and prospecting efforts, then we need to focus on our engagement in target accounts, our GTM strategy and ways to win tier 1 account deals as one team.
As I've shown throughout this article, it's not enough to identify the 3-10% of the market that is looking or is open to buying. You need to have the right ABM strategy, the right account plan, and the right interactions across all touchpoints. One communication misfire and one wrong interaction will result in unresponsiveness and inaction. You would lose the competitive advantage of knowing who's in-market.
Connect with me (Kristina Jaramillo) if you'd like to see how you can better leverage the intent data that your sales and marketing team can get from Intentsify. You may also want to check out these additional ABM and intent data resources:
About the Author
Kristina Jaramillo, President of Personal ABM, helps GTM teams win and expand both in-market accounts and the 60% of the market that is stuck in status quo. By taking a more personal approach to ABM and intent-driven prospecting, she created wins with accounts that were unresponsive for 5+ years, reversed "later" positions with enterprises like UPS and protected at-risk accounts like P&G. So you can learn how to better leverage ABM and intent data, check out her recent on-demand training on how to avoid the mistakes that's leading to 66% of ABM programs to underperform: http://personalabm.com/why-abm-programs-fail-webinar
Back to Intentsify Blog