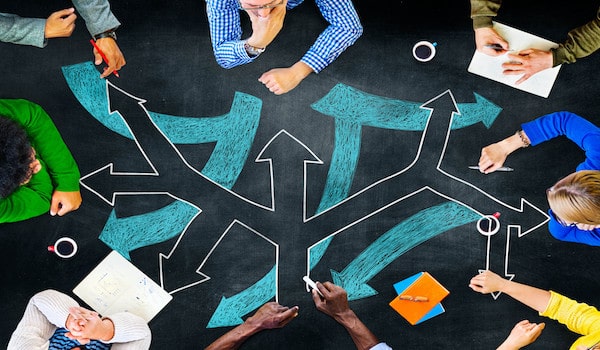 When should my B2B organizations invest in intent data? Are we even ready? Will an intent solution help us achieve our goals? Are there any prerequisites that we should know about before we get started?
Intent data supports a variety of use cases, and many organizations are seeing positive results from it relatively fast. In fact, a recent Ascend2 survey report found that more than half of intent users said they realized a return from their investment in just one to three months (58%).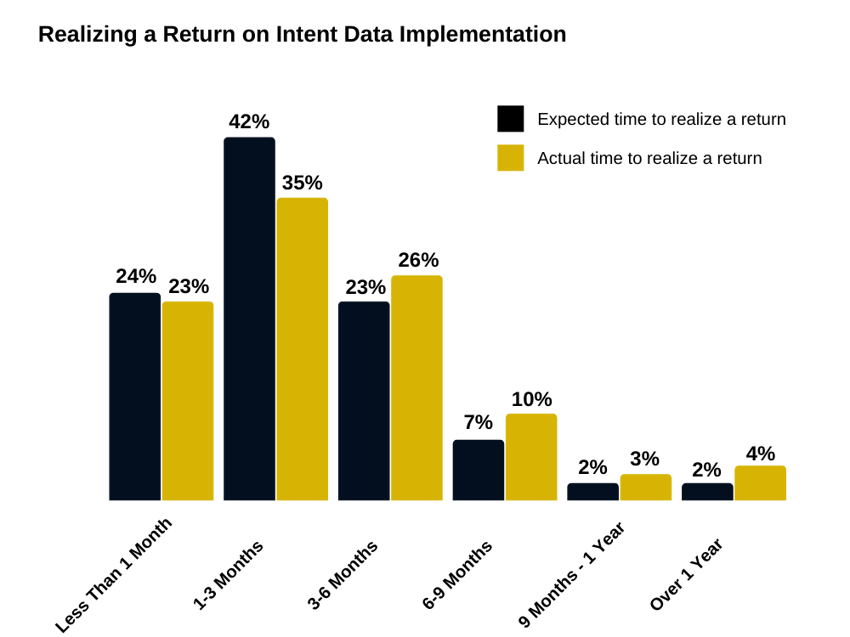 Is My Team Ready to Begin the Intent Journey?
If you're not already using intent data, the above figure may entice you to start. But if you're still unsure of whether it's the right time to begin your intent journey, here are the three most important questions to consider:
What are your organization's specific needs?
Do you have a good strategy in place?
What resources are available to support intent-driven efforts (in terms of employee time and skill, and core technologies)?
I'll discuss each of these questions in separate articles, beginning here with the importance of defining your organization's needs, and matching them to various intent data use cases. I'll later address the other two questions in subsequent posts.
What Are My Organization's Specific Needs?
A good place to start when considering whether your organization is ready for intent data is evaluating your current objectives/goals, needs, and wants to help determine if the tool can provide support in those areas. Think about what prompted your initial curiosity for intent, then fill in the missing blanks.
Keep in mind intent data's two main values:
It identifies which companies are researching challenges, solutions, brands, and products related to your organization; and

It reveals what they're specifically interested in so you can provide each company with the specific information they need.
How Will My Team Benefit From Intent Data?
Intent data supports many account-based marketing and selling efforts throughout the entire demand funnel. The same Ascend2 survey found that "digital advertising" (64%) is the most impactful use of intent data among B2B marketers, followed by customer account expansion (44%) and account identification (44%).
Maybe you're unsure of which companies to focus on, or having difficulty finding new target accounts to pursue that are both in-market and fit your ideal customer profile (ICP). Or it may be that you have a solid understanding of who your prospects are and should be, but unsure why they're not engaging with your brand.
And there are far more ways to use intent data than just the above examples. Here's a quick list of popular intent data use cases:
Account identification (e.g., target-account list expansion)
Display and social advertising (e.g., only serving ads to intent-identified accounts)
Content syndication (e.g., distributing branded content and buying leads only among intent-identified accounts)
Content marketing (e.g., customizing content for specific account segments based on their research interests)
Lead and account nurturing (e.g., ensuring specific leads/accounts are in the right nurture tracks)
Lead and account prioritization for sales follow-up (e.g., helping sales-development reps identify which leads/accounts are most likely to convert)
Sales messaging (e.g., customizing content and talk tracks for specific account segments based on their research interests)
In-person event planning (e.g., finding specific locations where a high number of target accounts are showing interest)
Customer-account expansion (e.g., identifying current customers that are ripe for upsell and/or cross-sell opportunities)
Customer-account churn prevention (e.g., identifying which customer accounts are a churn risk so you can fix any issues before it's too late)
If you're looking to improve performance in any of these areas, it may make sense to invest in intent data or a specific intent-driven solution. Just keep in mind—defining the specific initiatives you want intent data to support is important for ensuring a smooth path towards success.
Just as importantly, you'll want to bake the use of intent data into relevant marketing and sales strategies—specific to your selected use cases. I'll address this topic in my next article.

Back to Intentsify Blog