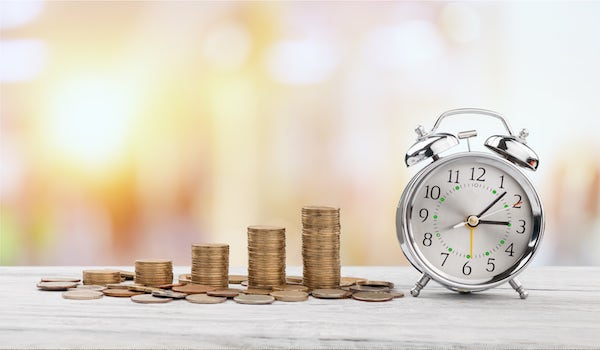 When one revenue-generating team is operating inefficiently, it has an adverse effect on the productivity of the others. This is particularly true for B2B organizations as marketing, sales, and customer success teams each play a unique role in guiding prospects and customers through a long—and often complex—lifecycle.
It's a domino effect. If inefficiencies are undermining marketing's efforts to drive sales pipeline (whether in quality or quantity), then sales has a much more difficult time closing new deals and acquiring new customers. In turn, if sales is forced to close lackluster deals with poor product-customer fit, it's much harder for customer success teams to boost renewal rates and scale current-account investments. And conversely, if down-funnel efforts are inefficient, then it undermines all the hard work done earlier in the customer lifecycle.
To help your B2B marketing, sales, and customer success teams drive better results, here are some common inefficiencies that mire revenue teams and how to use intent data to overcome them.
Marketing
Inefficiencies
B2B marketers are responsible for generating funnel activity that sales can convert to high-value deals. The most effective teams prioritize accounts that are both a good fit for their products/solutions and in an active buy-cycle (i.e., more likely to purchase).
Yet many marketers are struggling in this area—a recent survey conducted by Ascend2 Research found that "identifying target audiences/accounts" is one of the top critical challenges (45%) among B2B marketers.
This is because marketing teams often have target-account lists (TALs) comprising thousands of companies, which is usually far too large for available resources to handle. As a result, marketers' time and budget are spread too thin to effectively engage all these companies, most of which aren't in-market to buy. This obviously takes away resources that should be focused on in-market accounts.
Further, this inability to focus efforts on the right, in-market accounts also makes it difficult to measure, analyze, and optimize programs, because reporting has been skewed by accounts that aren't "in market". And so, a vicious circle emerges. Consequently, many teams experience wasted media spend, low ROI on tech investments, and sub-optimal demand growth.
How Intent Data Helps Marketing Teams Drive Efficiency
Intent data helps make account identification/prioritization easier and more accurate. In the same Ascend2 survey mentioned above, "account identification" ranks No. 3 among intent data's most impactful use cases, with 94% of respondents agreeing that the tool is effective in solving their critical challenges.
Specifically, intent data can help you uncover companies currently research topics, solutions, and brands related to your products—and thus more likely to be in-market. This then allows you to further segment your TAL into a more manageable list of intent-identified companies. As a result, marketers are able to allocate their effort, time, and budget to those intent-identified accounts that are much more likely to convert to quality sales opportunities.
For example, intent data can help digital marketing teams drive better results with the same media spend by ensuring their ads are being served only to intent-identified accounts (and in the right locations). Because ads are only targeting in-market companies, marketers will typically see much more engagement and return on ad spend (ROAS) in the form of brand lift, website traffic, leads, conversion rates, and ultimately demand. (Here are more ways B2B marketers can leverage intent data to achieve greater success in their initiatives.)
Sales
Inefficiencies
B2B sellers take the reins with late-funnel outreach efforts and are responsible for engaging prioritized accounts with customized messages.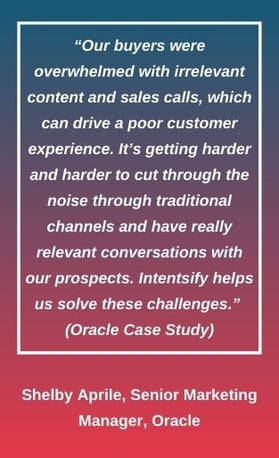 Like marketing, many sales teams struggle prioritizing the right accounts, which causes inefficiencies. Research shows 50% of sales time is wasted on unproductive prospecting. Moreover, in a Salespeople Perceptions and Top Performance Study, a vast majority of seller respondents (71%) say 50% or fewer of the their initial prospects turned out to be a good fit.
Sellers can also waste resources engaging the right leads/accounts, but at the wrong geographic locations—which means they're less likely part of the buying group. They may also be using the wrong messages with the right accounts, which is just as inefficient. This often creates misalignment between marketing and sales if teams aren't sharing insights with each other, resulting in further tension and creating more inefficiencies.
How Intent Data Helps Sales Teams Drive Efficiency
Intent data facilitates efficient marketing and sales initiatives throughout the funnel by ensuring resources are directed to the right audiences with messages that are customized to those audiences' specific needs.
By analyzing research activity around specific topics and keywords, sellers can get a strong idea of:
what prospects care about (i.e., their interests, challenges, needs, etc.);

where accounts are in their buyer journey; and even

whether they're looking at competitive solutions.
This then helps sellers to quickly select the right follow-up messages that will likely resonate with leads at those accounts—resulting in better conversations, higher conversion rates, and generally, improved results using the same resources.
Customer Success
Inefficiencies
According to the Ascend2 report, one of the most important metrics/KPIs to track for digital marketing strategies is customer retention/expansion (44%). (It just so happens that one of intent data's top use cases is customer account expansion (44%).)
The problem is that customer success (CS) teams usually don't have all the info they need to identify which accounts are likely to churn and those that are ripe for upsell or cross-sell. Consequently, CS teams can't anticipate customer needs nor provide the adequate level of support. Instead, they end up losing revenue opportunities, or worse, watching customers churn.
And it's not just about churn. This problem also puts more work and stress on both customer success and sales. And since it costs much more to acquire a net-new customer than to keep one, the entire company suffers from additional wasted resources.
How Intent Data Helps Customer Success Teams Drive Efficiency
It's unsurprising that customer success teams want a slice of the intent data pie. Its benefits support and enhance post-sale, customer retention, and expansion efforts just as much as pre-sale efforts.
Intent data helps teams put the customer first. When customers succeed, you succeed. It enables customer success teams to understand their customers more by identifying their concerns and interests, so you can better support them.
Specifically, being informed when one of your customers is actively researching a competitor's offering is incredibly valuable. It lets your team address existing customer issues before it's too late. On the other hand, if the intent data shows certain customers researching solutions you offer (but they haven't yet invested in), you can reallocate resources to expand the account's investment and increase its lifetime value.
Back to Intentsify Blog