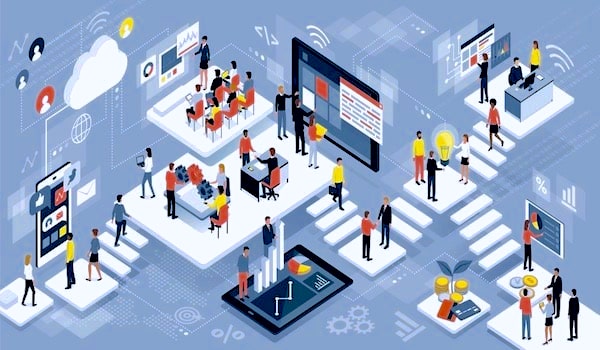 If you're unsure of whether it's the right time to invest in intent data, the three most important questions you should consider are:
What are your organization's specific needs?

Do you have a good strategy in place?

What resources are available to support intent-driven efforts (in terms of time and skill among your team members, as well as core technologies in place)?
In the first article of this three-part series, I explained the importance of matching your needs to intent data use cases. Next, I provided key elements of a successful and scalable intent strategy. Now I'll dive into the final piece: having the necessary resources available to support your intent-driven initiatives.
Intent data is currently being used by organizations of varying sizes. The way intent data providers operate today has evolved into offering packages customized to the specific needs of organizations—as opposed to practicing the "one size fits all" approach.
That said, success with intent data can depend on how you use the resources available to put the data into action—for each specific use case. Here are the most important types of resources to consider.
People
Enterprise companies have much larger teams, which provides the luxury of specialized roles. They can devote specific team members (or entire teams, in some cases) to gathering, organizing, deploying, and measuring the impact of intent data.
Of course, not every organization has a huge amount of manpower to dedicate employees to leading their intent initiatives. And this is ok. As digital savviness continues to grow among B2B marketing and sales professionals, marketers are becoming better equipped at managing various types of data—the result of higher quality thought leadership content, strong customer success programs among tech/data providers, and the general rise in demand for technical prowess in marketing/sales roles. Salesforce's 2021 State of Marketing Report substantiates this, as marketers revealed they currently use 11 customer data sources—up from eight sources in 2020 and six in 2019.
To ensure your organization will get the most out of any intent data investment or intent-driven solution, you want to give significant thought to the following questions:
Who will be leading and driving the intent strategy?

Which team(s) and individual role(s) will be using and/or benefiting from the data?

How exactly will each of these teams/roles be using the data?

Will these teams/roles have the necessary time to use the data in the manner best suited for the selected use cases?

How much training and education will they require? (See next section)

Do they have all the requisite technology? (See "Tech Stack" section)
Education/Training
While intent data's popularity is growing—and the knowledge gap among marketers is diminishing—the sophistication of its use (particularly for sales use cases) is still lagging. An Ascend2 survey found that "unfamiliarity with intent data" (27%) and "lack of required skills/knowledge" (20%) are among the main reasons why marketers haven't yet invested in it.
Intent data's impact on marketing, sales, and customer success efforts is only as strong as the ability of its users to understand exactly what it is, its core values, how it should be leveraged for each specific use case, and how to tweak processes along the way to get the most benefits. As David Crane, VP of Marketing at Intentsify, said:
Whether providing raw intent data to adjacent teams or intent-derived deliverables (e.g., intent-qualified leads to sales), impactful results depend on whether those teams know what to do with it.
Here are a few common questions to answer with your team before launching your intent-based initiatives:
How much time will be required to train the intent power-users as well as those whose efforts may be affected by intent-driven insights or deliverables?

How will intent data and/or insights be provided to its users, and at what cadence?

What do the provided intent signals, scores, insights, and any other specific terms mean, and how do users interpret and act on them?
Having answers to questions like these is hugely important and should be part of any holistic marketing and/or sales strategy that incorporates the use of intent data. It often means the difference between success and failure.
Tech Stack
The ability to gain a comprehensive, holistic view of the customer largely depends on the integration of data from different sources. In fact, a survey by Adobe found that marketers are now driving more value in their initiatives by including CRM data (48%), real-time data from analytics (40%), and integrating analytics across channels (38%).
The core tech systems
Having a CRM (customer relationship software) and a MAP (marketing automation platform) in place is somewhat of a prerequisite for effectively leveraging intent data. Otherwise, your use cases are limited.
Integrating CRMs/MAPs with intent data allows marketers to drive more personalized, targeted campaigns—and in less time. By aggregating first-party data (via your CRM and MAP) and third-party intent data (via your providers), you can get a more holistic and accurate view of prospects' research activities and interests. Further, using an MAP, you can quickly automate next steps for engagement, creating workflows that use trigger events to help scale personalized customer interactions.
McKinsey explains why this is key: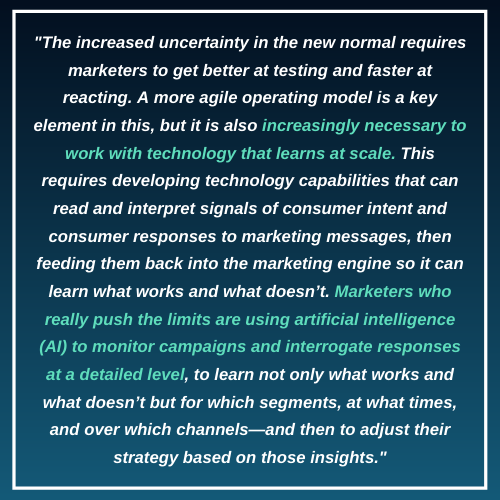 The various point solutions
While having an MAP and CRM are pretty much table stakes for any organization looking to scale business with intent data, certain intent use cases often benefit from additional tools. Fortunately, most of these are already in use by the majority of B2B marketing and sales teams:
Demand-side platform (if you plan to launch and manage programmatic advertising campaigns internally—though there are some

great solutions

that can do this for you)

Content management system (CMS)

Sales-engagement platform

ABM platform
While the resources listed above aren't technically prerequisites for intent data, teams who have them in place prior to implementation are the ones achieving big results with their investment. Additionally, by defining your organization's needs and the initiatives you want it to support (see Part 1), and building your strategy with the most important elements (see Part 2), you'll be on your way towards intent success.
Back to Intentsify Blog