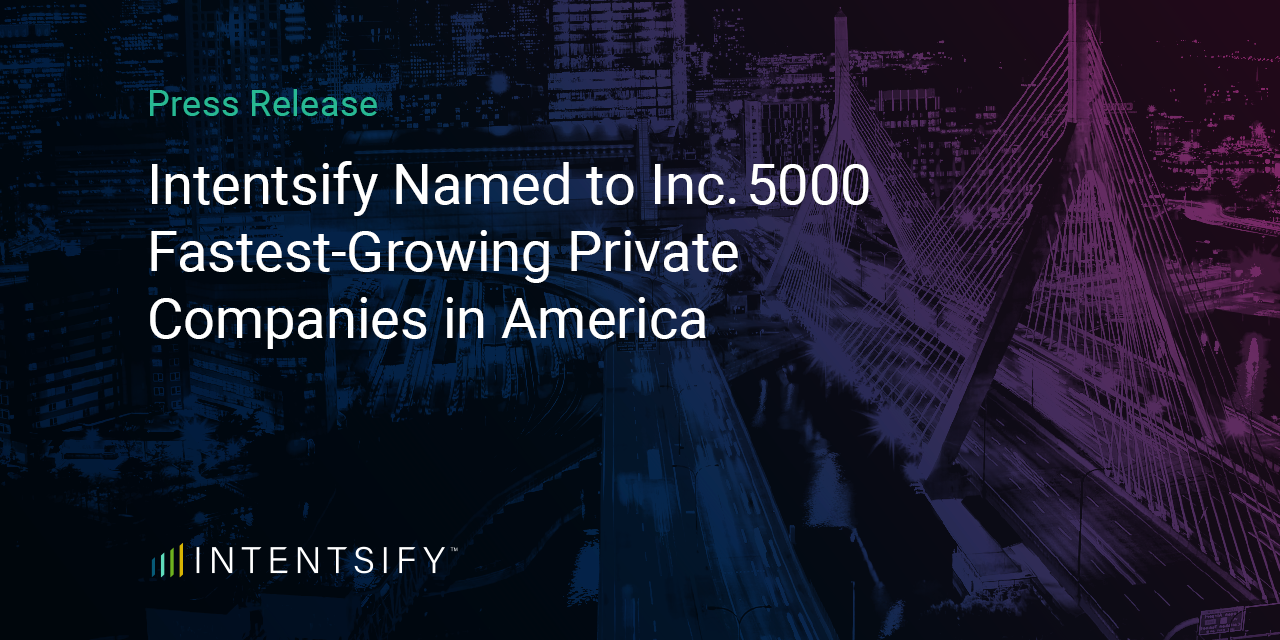 WESTWOOD, Mass. – August 17, 2023 – Intentsify, the leading provider of AI-driven precision buyer-intent intelligence and intent activation solutions, was ranked number 278 on the 2023 Inc. 5000, an annual list of the fastest-growing private companies in America.
The Inc. 5000 class of 2023 represents companies that have driven rapid revenue growth while navigating inflationary pressure, rising costs of capital, and seemingly intractable hiring challenges. Among this year's top 5000 companies, the average median three-year revenue growth rate ticked up to an astonishing 2,238 percent.
"We take immense pride in celebrating this achievement alongside our team, customers, and partners worldwide," remarked Gary Noke, CEO of Intentsify. "Our unwavering commitment to serving as an indispensable partner for B2B enterprises has been our compass, and our continuous innovation in buyer intent intelligence remains our guiding force."
"Running a business has only gotten harder since the end of the pandemic," says Inc. editor-in-chief Scott Omelianuk. "To make the Inc. 5000—with the fast growth that requires—is truly an accomplishment. Inc. is thrilled to honor the companies that are building our future."
The Inc. 5000 recognition follows a string of notable successes for Intentsify. Last month, the Sales and Marketing Technology Awards, also known as "The Sammys," named Intentsify a leader in sales and marketing technology, helping to solve the challenges organizations have connecting and collaborating with prospects and customers. And in May, Intentsify was awarded Strong Performer status in The Forrester Wave™: B2B Intent Data Providers, Q2 2023 report.
"We are proud to reward and recognize Intentsify for their innovation and dedication to helping both the organizations using their technology and the ultimate consumer," said Maria Jimenez, Chief Nominations Officer, Business Intelligence Group. "It was clear to our judges that their efforts will improve how we all connect with the brands we love for years to come."
To learn more about Intentsify's continued momentum and growth, visit www.intentsify.io.
About Intentsify
Intentsify provides B2B organizations with the most accurate, comprehensive buyer-intent intelligence in the market today, and solutions to act on that intelligence. By delivering and activating proprietary, next-generation precision intent data, Intentsify's Intelligence Activation Platform identifies companies exhibiting research behaviors directly related to your business solutions, pinpoints where they are in the buying process, surfaces the issues they care about most, and enables you to engage identified companies with full-funnel buying experiences that drive revenue. www.intentsify.io
About Inc.
Inc. Business Media is the leading multimedia brand for entrepreneurs. Through its journalism, Inc. aims to inform, educate, and elevate the profile of our community: the risk-takers, the innovators, and the ultra-driven go-getters who are creating our future. Inc.'s award-winning work reaches more than 50 million people across a variety of channels, including events, print, digital, video, podcasts, newsletters, and social media. Its proprietary Inc. 5000 list, produced every year since 1982, analyzes company data to rank the fastest-growing privately held businesses in the United States. The recognition that comes with inclusion on this and other prestigious Inc. lists, such as Female Founders and Power Partners, gives the founders of top businesses the opportunity to engage with an exclusive community of their peers, and credibility that helps them drive sales and recruit talent. For more information, visit www.inc.com.
About Business Intelligence Group
The Business Intelligence Group was founded with the mission of recognizing true talent and superior performance in the business world. Unlike other industry award programs, business executives—those with experience and knowledge—judge the programs. The organization's proprietary and unique scoring system selectively measures performance across multiple business domains and then rewards those companies whose achievements stand above those of their peers.
###
Contact
Samantha Stone
Kickstand Communications
intentsify@meetkickstand.com
Back to Intentsify Newsroom