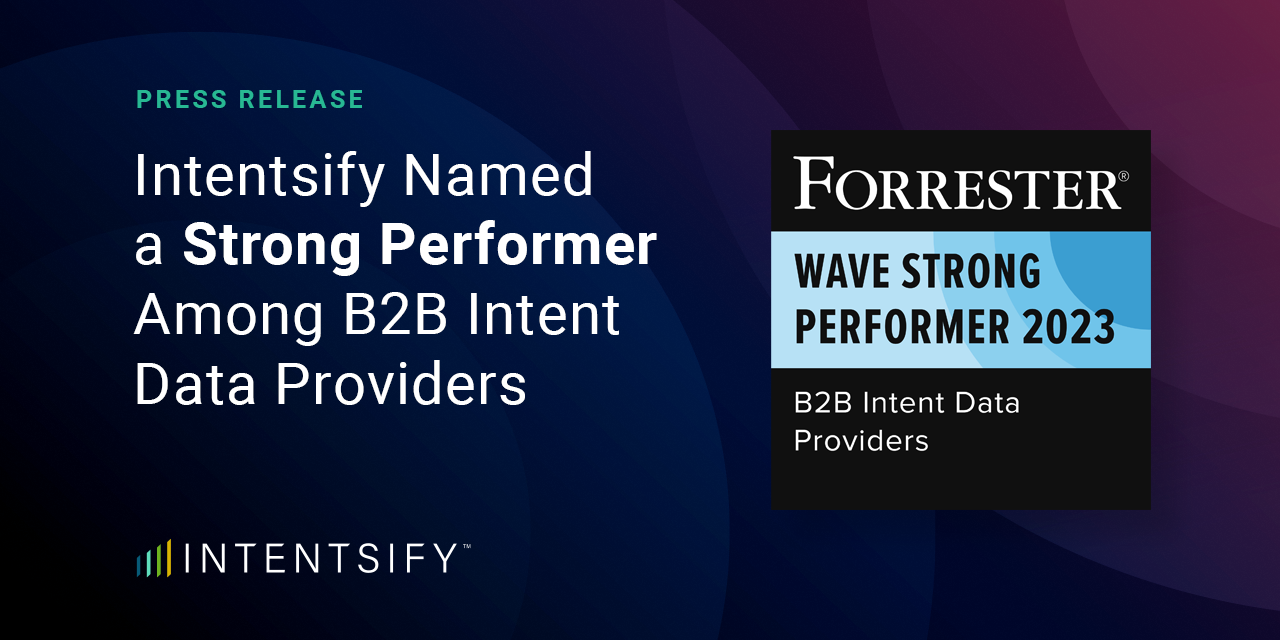 WESTWOOD, Mass. – May 24, 2023 – Intentsify, the pioneer in next-generation buyer-intent intelligence and Intent Activation™ solutions, today was awarded Strong Performer status in The Forrester Wave™: B2B Intent Data Providers, Q2 2023 report.
The Forrester report evaluated 14 providers across 26 criteria, measuring the depth, breadth, and quality of the intent data they provide B2B sales, marketing, and operations professionals.
According to the report, "[Intentsify] differentiates with a vision centered on predictive intent that rivals the pure data provider business model. Its core selling proposition revolves around the development of highly customized scoring models for each customer solution, driving innovation that matches the category Leaders."
The 2023 Forrester Wave further recognizes Intentsify for its innovation, accuracy, and customer-centric product roadmap, specifically highlighting Intentsify's "advanced applications of AI and deeper automation. Intentsify's sophistication of analytics, including advanced buying cycle analysis and a unique application of natural language processing to provide a weighted ranking of a client's most critical keywords, differentiates the current product offering."
"As a disruptive newcomer to the intent data space, we're honored to be recognized as a strong performer in our first Forrester Wave appearance," said Marc Laplante, CEO of Intentsify. "To be named a top intent data company by such a respected source after only four full years in business shows our team's hard work is paying off. And it only strengthens our resolve to deliver innovative solutions to the market, ensuring each of our customers is equipped to adjust their B2B go-to-market strategies according to their quickly evolving, unique needs."
The report also states, "Reference customers praised the vendor for its impressive success in targeting, willingness to customize, and ability to simplify the complexities of managing and leveraging intent."
Intentsify received the highest scores possible in the following categories:
Innovation

Scale of proprietary data collection
Data accuracy and noise filtering

Industry/Vertical/Keyword coverage

Analytics capabilities

Buying-cycle analysis

Combining signal types

Vision
Intentsify has seen tremendous growth in 2023 alone. In Q1, the company announced its next-generation precision intent data solution to ensure marketers' messaging aligns with prospects' evolving research behaviors and buying stages. Shortly after, Intentsify opened its new corporate headquarters in Westwood, Massachusetts, and announced 56% YoY revenue growth and 91% increase in staff in both the US and abroad. To progress international momentum, Intentsify appointed Chief Revenue Officer of EMEA & APAC Ajay Subherwal and formally announced expansion into APAC to help existing customers drive their own in-region growth.
Download the The Forrester Wave™: B2B Intent Data Providers, Q2 2023 report here.
###
About Intentsify
Intentsify provides B2B organizations with the most accurate, comprehensive buyer-intent intelligence in the market today, and solutions to act on that intelligence. By delivering and activating proprietary, next-generation precision intent data, Intentsify's Intelligence Activation Platform identifies companies exhibiting research behaviors directly related to your business solutions, pinpoints where they are in the buying process, surfaces the issues they care about most, and enables you to engage identified companies with full-funnel buying experiences that drive revenue.  www.intentsify.io
Contact
Samantha Stone
Kickstand Communications
intentsify@meetkickstand.com
Back to Intentsify Newsroom