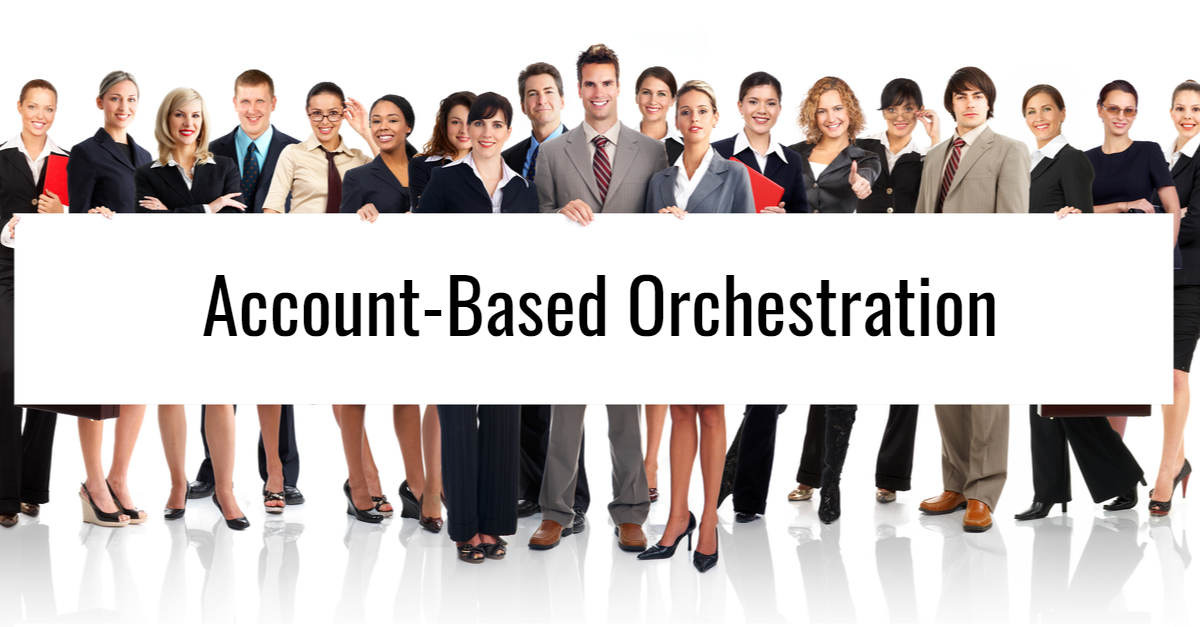 Click here to listen to the article
The following is a guest post written by Jess Weimer, Vice President of Global Revenue Marketing at Confluent.
Account-based marketing (ABM) is a concept already set up with a misperception: that it's solely marketing's responsibility to orchestrate account-based plays.
Sure, ABM "tools" and ABM "consultants" are out there and can and will help. And they're the first things sought out at times because that's how we as marketers look for additive influence into our plans.
Let's take a step back, however, and recognize that neither a tool nor a vendor alone could ever drive your organization's transformation to "account based." That's why I prefer to label it account-based orchestration (ABO) or account-based "go-to-market"; it's not just on marketing—company-wide adoption is required to successfully orchestrate an account-based approach.
Account-Based Strategies Involve Many Roles
So, who in the organization should be involved in an account-based orchestration strategy? To varying degrees, ABO should include:
Product marketing

Customer marketing

Demand gen/campaigns

Sales development

Field sales

Sales operations

Partners

Customer success
And with all the various stakeholders involved in this transformation, it's important to understand the fundamental differences in how these sub-functions operate. They each require a coordinated shift towards an ABO approach.
Unfortunately, such a cross-functional initiative is much more difficult than business leaders think.
Why Is It So Hard for "ABM" Leaders to Orchestrate?
This isn't an easy question to answer. From my experience, however, orchestration difficulties largely stem from that fact that the unique purposes of (and even cultural differences between) these functions typically aren't well understood across the organization. And their workflows are rarely in sync.
For example, sales is perhaps the most overlooked and underestimated role in account-based orchestration. We all know that sellers are the lifeline to growing your business. Yet, we often forget about all the things we require of them: generate pipeline, close new business, retain current accounts and scale investment, gather account intelligence from all the other functions and feed data back—all while being sensitive to prospect and customer needs and schedules.
I'm particularly conscious of sales' predicament. But every function today is responsible for juggling many responsibilities—and we're all guilty of being remiss regarding our colleagues' challenges.
As such, it's quite difficult to bring all these functions together in a way that significantly boosts the impact of account-based strategies.
ABO can and should help, but we simply can't orchestrate an organization-wide initiative unless we have a strong understanding of all the factors involved and how they influence one another.
How Should Each Function Contribute to ABO?
To help, the table below provides a brief outline of each function's role in ABO and the many ways they collaborate with and influence other functions. It also contains high-level, yet important, tips for each function relating to account-based efforts.
(Click table for larger view)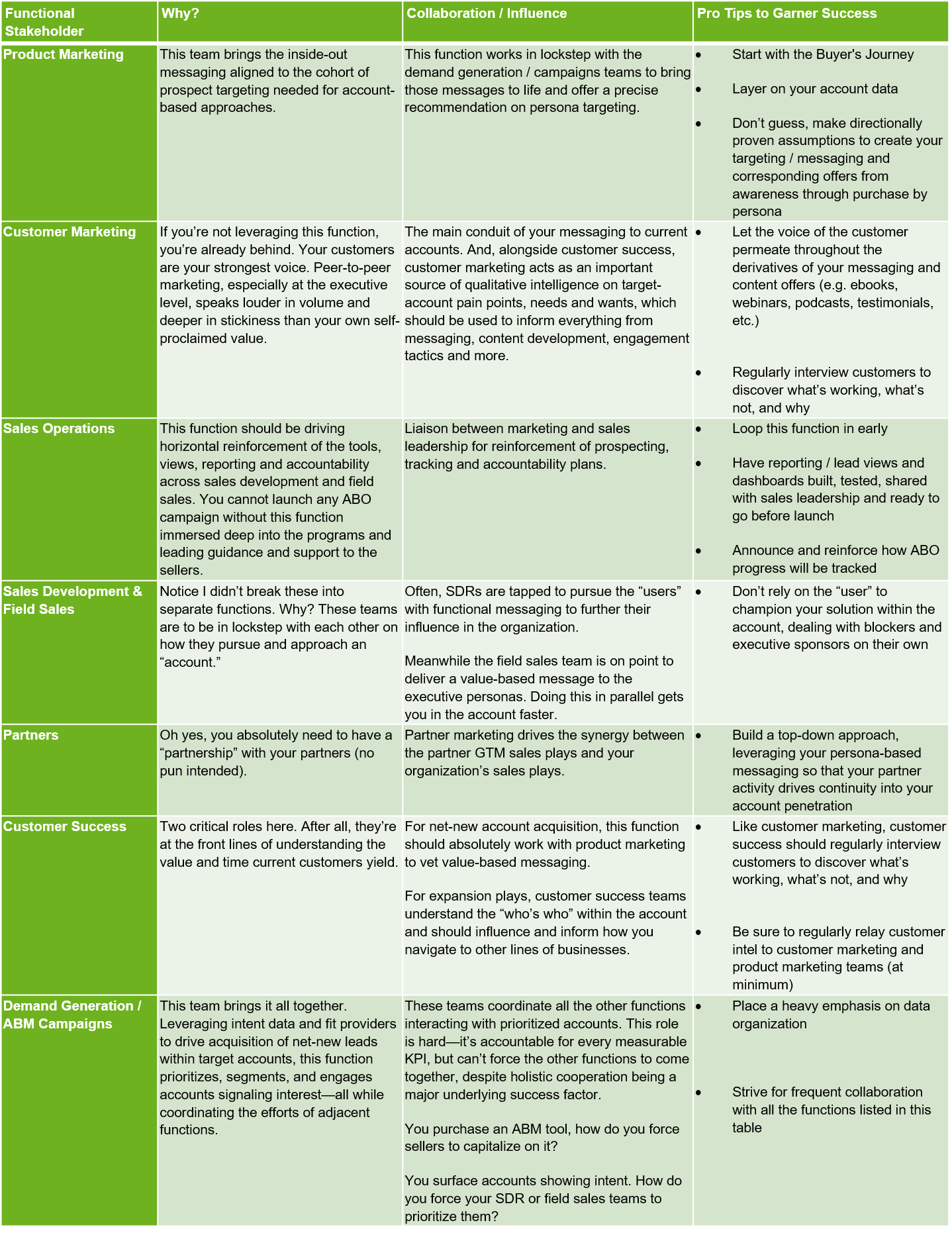 In addition to the individual tips outlined in the table, it's important that all functional teams and stakeholders prioritize frequent communication and methodical cross-functional planning. As noted above, account-based orchestration demands leaders have a strong understanding of (and empathy for) each function's purpose and workflow processes. There's simply no better way to ensure successful ABO than to break down the silos and work together.
Lastly, I encourage you to watch this videocast—"Wining About Marketing: Episode 1"—where my industry peers and I discuss ABM Orchestration further.
Back to Intentsify Blog