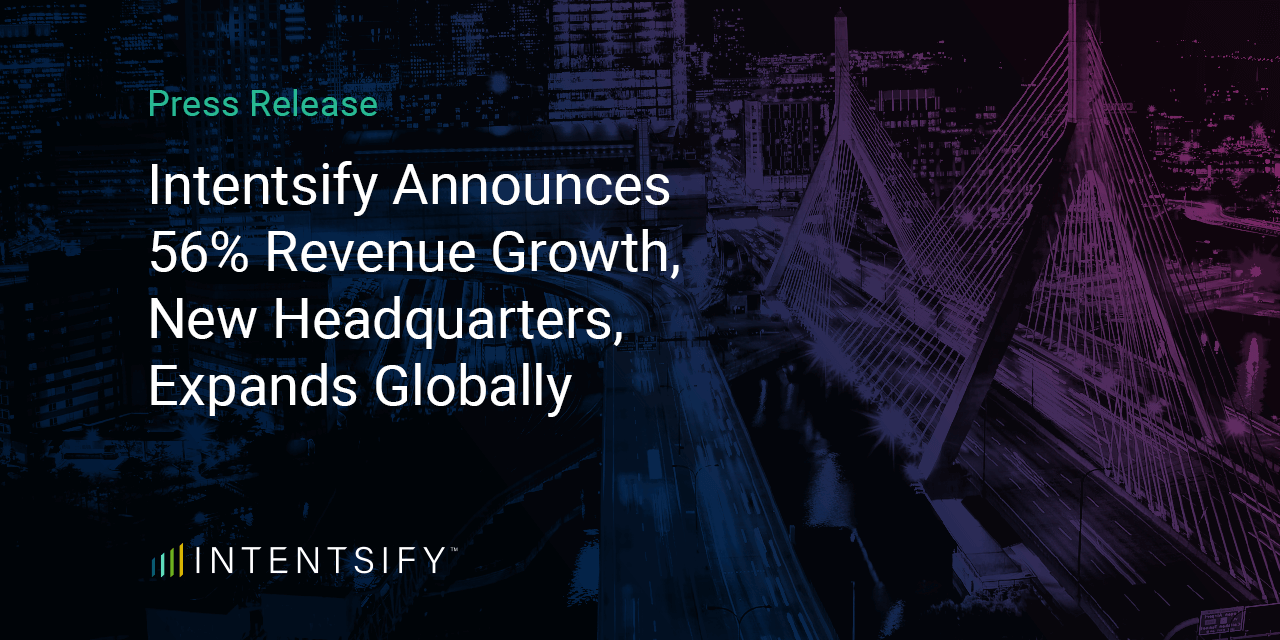 WESTWOOD, MA—April 18, 2023—Intentsify, the pioneer in next-generation precision buyer-intent intelligence and intent activation solutions, today announced the opening of its new headquarters in Westwood, Massachusetts. The office expansion comes on the heels of extraordinary revenue growth, product innovations, and award wins as the company continues to revolutionize buyer-intent intelligence for B2B companies.
Intentsify's revenue surged by 56% YoY, largely attributable to a significant expansion of the company's customer base, which led to a 91% increase in staff both in the US and abroad. The recent appointment of Ajay Subherwal as Chief Revenue Officer of EMEA & APAC allowed Intentsify to further support global expansion efforts, bringing the company's best-in-class precision intent data solutions to businesses on an international scale. Global employee expansion enabled the company to accelerate growth and scale for rapid product innovation, including enhancements to its Intelligence Activation Platform.
In February 2023, Intentsify launched next-generation precision intent, a patent-pending evolution of the company's proprietary intent data. Using advanced natural language processing (NLP), precision intent is the first and only intent data solution that generates signals using models calibrated precisely to a customer's unique products and business offerings.
Continuing to capitalize on cutting-edge innovations, Intentsify launched its enhanced intent-driven display advertising offering, the first and only B2B display solution using AI-generated, customized intent signals to dynamically align display programs to each target account's evolving buyer journey. Intentsify's display advertising capabilities synchronize with its content syndication programs, working in tandem to ensure consistent messaging across channels and improve program performance. Informed by changes in buyers' research activities and featuring account-based performance transparency and insights, Intentsify's display solution enables more effective follow-up messaging, greater sales readiness, and dramatically scaled conversion rates.
"Now more than ever, B2B enterprises rely on accuracy, precision, and reliability to target the right audiences at the right time and drive continuous revenue. The need for intent data solutions is paramount for this success," said Marc Laplante, CEO of Intentsify. "Delivering our customers the experience and support they need to implement robust GTM strategies is a top priority. We pride ourselves on being leaders in the intent data space and remain committed to building the most impactful platform available on the market today for customers across the globe."
The company proved its continued momentum in 2023 by ranking #20 on the Inc. Regionals Northeast list among the 169 companies chosen.
To learn more about Intentsify's ongoing momentum, growth, and innovative product capabilities, visit http://www.intentsify.io.
###
About Intentsify
Intentsify provides B2B organizations with the most accurate, comprehensive buyer-intent intelligence in the market today, and solutions to act on that intelligence.   By delivering and activating proprietary, next-generation precision intent data, Intentsify's Intelligence Activation Platform identifies companies exhibiting research behaviors directly related to your business solutions, pinpoints where they are in the buying process, surfaces the issues they care about most, and enables you to engage identified companies with full-funnel buying experiences that drive revenue.  
Contact
Samantha Stone
Kickstand Communications
intentsify@meetkickstand.com
Back to Intentsify Newsroom