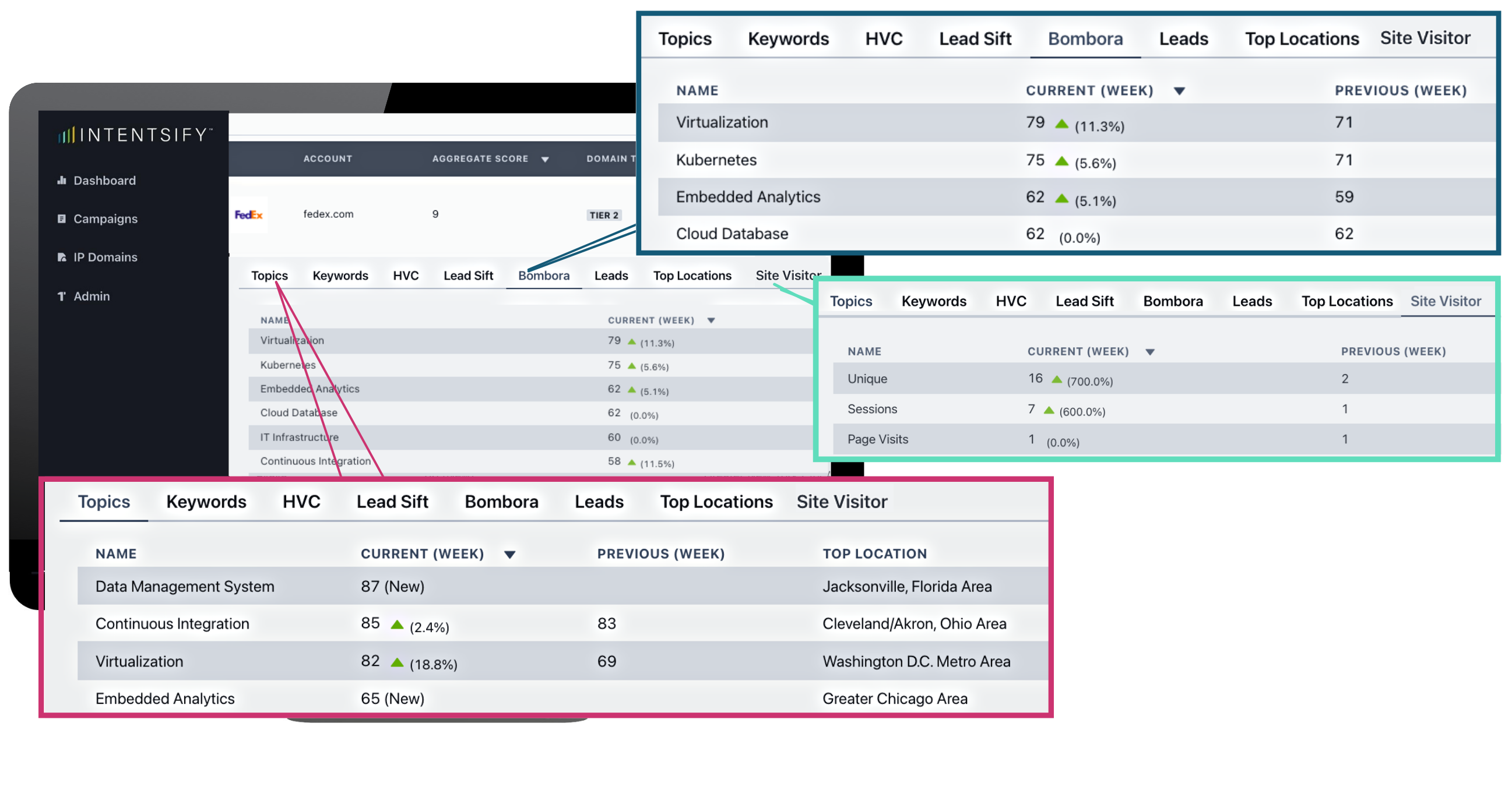 FRANKLIN, Mass, September 16, 2021—Intentsify, the innovator of Intent Activation™ software and solutions, announced the release of an entirely new user interface (UI). The new UI increases the ease and effectiveness with which customers can access, analyze, and act on intent data signals ingested from multiple sources. Moreover, the upgraded UI coincides with substantial, recent investments in Intentsify's technology infrastructure to enable a much quicker evolution of its product capabilities, features, and integrations.
"Not only does the new UI provide a cleaner, more intuitive experience for Intentsify's customers, it marks a significant milestone in the company's growth plans," said Intentsify's Chief Product Officer, Charlie Allieri. "The market's enthusiasm for Intentsify's initial launch as well as our ambitious solutions roadmap required a significant investment in infrastructure technology as well as natural language processing (NLP) and machine learning (ML) capabilities. We're incredibly excited about these new resources, and how they'll allow us to quickly scale the value we provide our customers through the addition of new intent data sources, expanded integrations, enhanced reporting, and new Intent Activation™ solutions."
Brian Dudley Joins Intentsify as VP of Customer Success & Operations
To ensure the success of its customers in the relatively new, quickly growing, and complex category of intent data, software, and solutions, Intentsify recently hired Brian Dudley to run its customer success team. Brian brings with him 20 years of B2B tech-industry experience, including more than three years as VP of Customer Success at intent data provider Bombora.
"Intentsify delivers on all my values, and more," said Brian Dudley. "It's a hyper-growth startup with an experienced leadership team focused on developing a unique product in the B2B data space. I feel as if my entire career has led to this position. I'm a demand gen guy through and through, and I've spent the past handful of years working alongside customers to help them use intent data to drive their demand gen efforts. This is Intentsify's wheelhouse. Everything the company does is focused on making data more actionable and impactful for their customers."
Doug Detlefsen Joins Intentsify as VP of Strategic Accounts
Intentsify is also bolstering its sales efforts with the addition of Doug Detlefsen. Doug joins the Intentsify team with over 20 years of experience selling B2B tech, data, and media—including executive and senior sales positions at True Influence, Madison Logic, Spiceworks, and IDG.
"I'm a bit of a data wonk—I even had my kids include data analytics in their college degrees," said Doug Detlefsen. "Our world is driven by data, but so much data is wasted or trapped in silos. I joined Intentsify to help break down the silos, so marketers and sellers can better capitalize on all their data. Intentsify is purpose-built to mine the intersections of data that hold the greatest opportunity for B2B organizations. It's demand generation driven by deep intent and data activation."
About Intentsify
Intentsify's Intent Activation™ software and solutions make intent data more actionable and impactful for B2B marketing and sales teams. Building on Intentsify's proprietary intent data, our Intent Activation™ software layers multiple intent data feeds to verify intent-signal accuracy and highlight accounts showing the strongest buy-cycle activities—as well as the issues they're most concerned with. Our solutions then convert intent insights into actions via demand generation and programmatic advertising campaigns, helping you efficiently scale account-based demand and pipeline velocity.
For more information, please visit www.intentsify.io
Back to Intentsify Newsroom