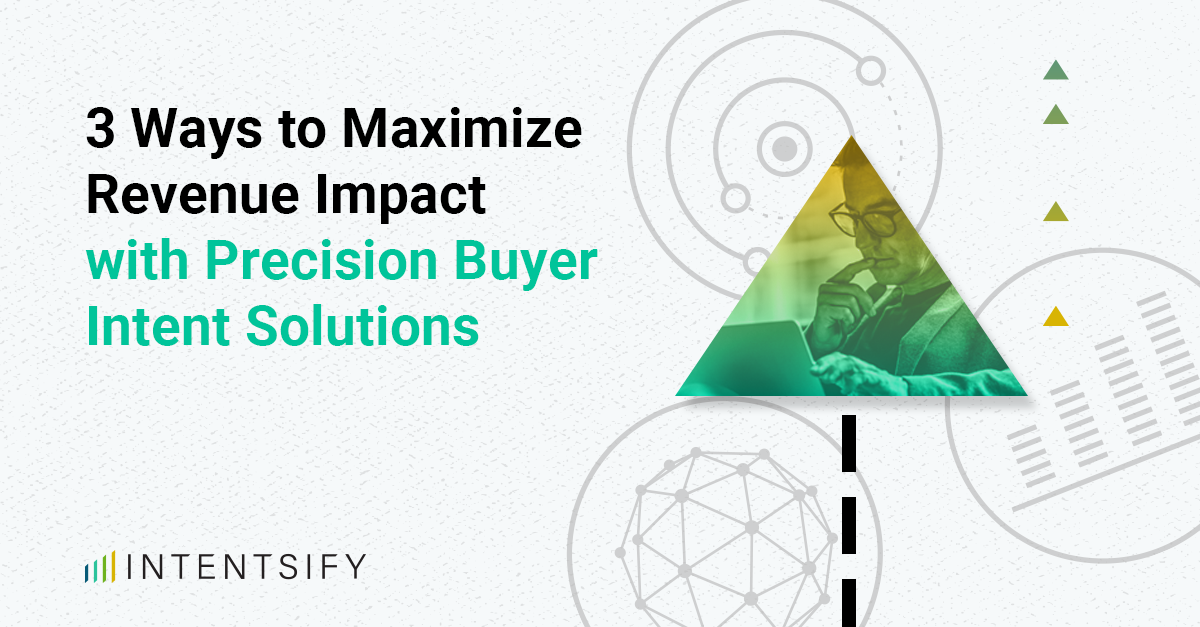 Only a handful of years ago, marketers might have been able to get away with leaving the numbers to more analytical marketing roles, such as marketing operations or digital advertising management. But that's no longer the case.
More data than ever is available to marketers. It informs every aspect of B2B marketing, from demand generation to field marketing and content creation to product marketing. And intent data can be such a critical tool to help marketers focus their efforts on the right buyers and accounts when navigating an increasingly dynamic B2B buying-and-selling process and an economic downturn—all while driving measurable revenue impact.
Intent Data Helps B2B Marketers with Timelier & More Relevant Outreach
By adding intent data to content syndication programs, you amplify their impact on your pipeline and revenue goals. How? By identifying accounts in an active buy cycle, prioritizing those accounts, and highlighting which content and messages are resonating with your target audience. The result? Better prospect experiences and higher conversion rates.
B2B marketers are responsible for generating funnel activity that sales can convert to high-value deals. The most effective teams prioritize accounts that are both a good fit for their products/solutions and in an active buy-cycle (i.e., more likely to purchase). Many B2B marketers are turning to intent data, timelier and more relevant outreach, and more integrated cross-functional processes to better align sales, marketing, and customer efforts with the priorities of accounts and the buyers they covet.
But like all first-generation efforts, not all intent data is created equal, and standalone intent data feeds require significant manual effort or don't move the needle much for companies other than taking up database space. These inefficiencies drain resources and take teams away from driving revenue impact.
Common Intent Data Pitfalls for Revenue Teams
While B2B marketers can take advantage of intent data for a variety of use cases, there are also sales, customer success, data science, and revenue operations use cases. Valuable intent insights and account intelligence should not be kept in a silo. The problem is today's market is filled with point solutions driven by intent data. These solutions typically leverage only a single source, derivation method, and evaluation model—often focused on a single use case.
This means that B2B organizations struggle to:
Quickly gather intent signals from multiple sources

Update their planned tactics based on fresh intent signals

Distribute intent-driven insights to the teams and/or individuals in charge of acting on them
The seemingly simple solution is to aggregate multiple intent data feeds and/or solutions and distribute the account intelligence across revenue teams, which is much easier said than done. Unfortunately, it's nearly impossible to do this manually. The varying range of tracking methods and evaluation models makes comparing data feeds incredibly time consuming. Not only does this waste resources at a time when teams are under tremendous pressure, but they also likely won't be able to digest disparate feeds, synthesize them into usable intelligence, and act on them before they're no longer relevant.
How to

Harness and

S

ynthesiz

e

D

ata into

P

recision

I

ntent

& A

ccount

I

ntelligence
Timely and relevant intent data activation starts with automating the process of harnessing and synthesizing multiple data feeds. But simply creating a one-size-fits-all intent data feed using third-party intent is no longer enough.
Instead, winning organizations must adapt to the dynamic nature of the B2B buying-and-selling process by having access to comprehensive, proprietary, precision buyer-intent and account intelligence that's unique to their business solutions.
That's where next-generation intent intelligence platforms like Intenstify come in. These platforms can aggregate, digest, and synthesize multiple first- and third-party intent data sets (along with other types of business data like firmographic, technographic, and predictive data that's made available to all revenue teams). And it identifies companies exhibiting research behaviors directly related to your business solutions, pinpoints where those companies are in the buying process, and surfaces the issues they care most about as they progress through their journey.
Proprietary, precision buyer-intent and account intelligence enables exceptional full-funnel buying experiences that drive revenue. Specifically, B2B marketers can focus on improving account prioritization and scoring, bolstering content and messaging strategy, guiding and improving existing third-party demand generation efforts, and understanding current customer needs to achieve efficient growth.
The key is to act quickly on the available buyer-intent and account intelligence before competitors do.
1. A

ctivat

e A

ccount

I

ntelligence

Q

uickly
Having access to comprehensive, dynamic, and precision buyer-intent and account intelligence is one thing. Ensuring that data is used to activate campaigns and programs in a timely fashion by all relevant functions and roles is an entirely different feat—but just as important. The best strategies limit manual effort where possible and adapt to buyer actions and the latest precision buyer-intent data to optimize results.
That's where intent-driven solutions using a next-generation intent intelligence platform can enable marketers to engage with intent-identified companies quickly and efficiently. Next-generation platforms leverage proprietary and precision intent data, and activate it directly into marketing programs.
Tried-and-true lead generation strategies like digital advertising or content marketing have traditionally been effective, efficient, and measurable—all important factors for B2B marketers navigating today's dynamic and volatile market. But a lot has changed in terms of the sophistication of both tactics from a few years ago. Between the ability to generate leads among target accounts and the near-universal use of lead-data governance technology, marketers see even more value in such programs.
2. Stretch Your Digital Advertising Budget Using Precision Intent
We know all too well how quickly digital marketing teams can burn through their advertising budget. Precision buyer-intent data can help improve digital ad campaign performance by ensuring that impressions are served to intent-identified accounts in the right locations. Intentsify's Intent-Driven Display Advertising Program helps you do just that.
You can increase return on your advertising budget by using intent data to serve ads specifically to companies (and specific office locations) that are already researching your product and/or service categories. You can also see which companies have viewed your ads and weigh that against their latest research activity to further prioritize accounts.
3. Bolster Your Content Marketing Strategy with Precision Intent
There's a lot of content out there—60% of marketers create at least one piece of content each day, according to eMarketer. It's difficult to stand out due to the overwhelming amount of content continuously created and distributed.
And buyers' attention has never been so splintered since many are concerned with losing their own jobs. To break through the noise and outshine competitors, enterprise B2B businesses must supply buyers with the right information where and when they want it.
Precision intent data can break through the noise and build a brand's online presence more effectively. It lets you know which information prospects need and when by revealing helpful insights into their challenges, needs, and concerns. When applied to lead generation programs using, for example, Intentsify's Intent-Driven Demand Generation Program, it can increase qualified demand from intent-identified target buyers.
As more revenue teams adapt to the new normal of a more dynamic buying-selling process, limited marketing funds, and conservative business growth prospects, teams must lean in on using data to drive efficient and measurable revenue impact. But the days where teams can just dabble a little bit with intent data are over. Next-generation intent intelligence platforms are here, helping marketers harness proprietary and precision intent and activate it quickly and effectively.
Back to Intentsify Blog